PRODUCT:
Induction Heaters
Induction billet heaters were added to our product range to supplement gas-fuelled quick-heating furnaces in 2019. We have been able to secure the know-how required for this through recruiting highly experienced personnel who are recognised as specialists in the industry around the world. This was a strategically vital, as well as logical, step for our company. extrutec induction heaters are characterised by the latest converter technology, high efficiency, precise temperature control, and easy maintenance.
Induction Billet Heaters
Special features:
extrutec induction heaters are high-performance systems for the process-accurate heating of all metals

State-of-the-art IGBT converter technology offers fully digitised controls, as well as analysis and parametrisation software

Gradient control for optimised heating at high outputs and large-format materials

Multi-zone technology, fully synchronised with variable application frequencies adjusted to the material to be heated

High process efficiency

Special construction elements ensure lowest EMC emissions

Lowest noise emissions
NEW TECHNOLOGY:
Power Focus TechnologyTM
This technology ensures individual power supply per heating zone, according to the necessary process-related temperature gradient. The top zone of a taper furnace always requires more power due to the higher top temperature, in contrast to the bottom zone of the block. This results in greatly differing degrees of utilization in the respective heating zones. Here, the Power Focus TechnologyTM takes into account the requirement to compare and also improve the energy utilization efficiency of the IGBT converter. This leads to a lower connected load, especially in the case of a so-called taper furnace, which is always linked to a preheating system.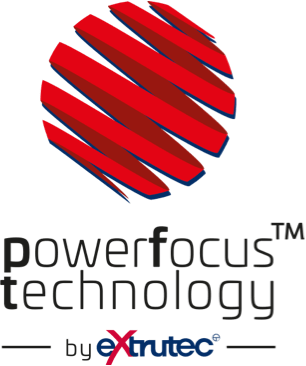 The power supply is therefore utilized considerably and at the same time the peak load in the power supply is smoothed. In a typical application for a throughput of 4 - 5 t on an 8" or 9" furnace line, a system with Power Focus TechnologyTM requires approximately 25% less connected load without any impact on the heating throughput in hybrid operation with a billet preheater. As a result, the energy distribution can also be made smaller, which in turn leads to lower basic losses and thus better resource utilization.